It's time to meet now! It's thrilled that we will attend the PLMA Amsterdam on 23-24th May 2023. This exclusive event is an excellent opportunity for you to explore the latest trends and innovations in the private label industry.The Countree team is making the complete preparation for PLMA's "World of Private Label" nowadays and expects all your coming soon.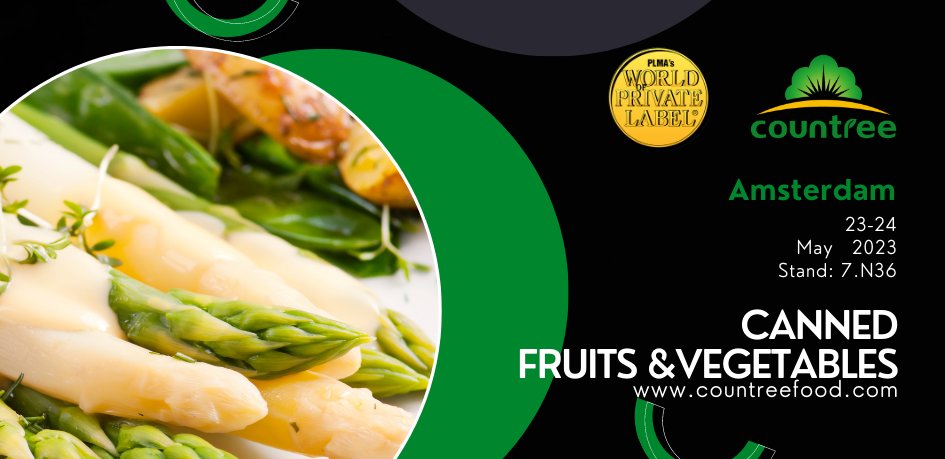 We have never stopped on the way to supplying Nutritious fruit and vegetable ingredients to our customers in marketing retail, wholesale, catering, industrial, etc. We're becoming the leading manufacturer for canned asparagus worldwide and core canned fruit & vegetables suppliers.
During this PLMA show, our products will be completely displayed during the show, including canned fruits & vegetables, such as asparagus, sweet pepper, beetroot, potato, yellow peach, fruit cocktail, puree, jelly, frozen fruits & vegetables, etc. And a variety of packing forms: Tinplate, glass jars, soft packaging, etc. Visit the our booth may help you get a better understanding of our products and our commitment to fresh, healthy products.
If you are interested in the Private Label Manufacturers Association (PLMA) Exhibition or our products on display,we would like to personally invite you to join us for this exciting event, our booth number: 7.N36. Let's explore more possibilities:
· Explore our canned fruits and vegetables, innovative, customized product solutions.
· Exchange information on the latest market and consumption trends.
Please contact us if you need to make an appointment and receive a free visit pass.
Our email: admin@countreefood.net. Looking forward to hearing from you!