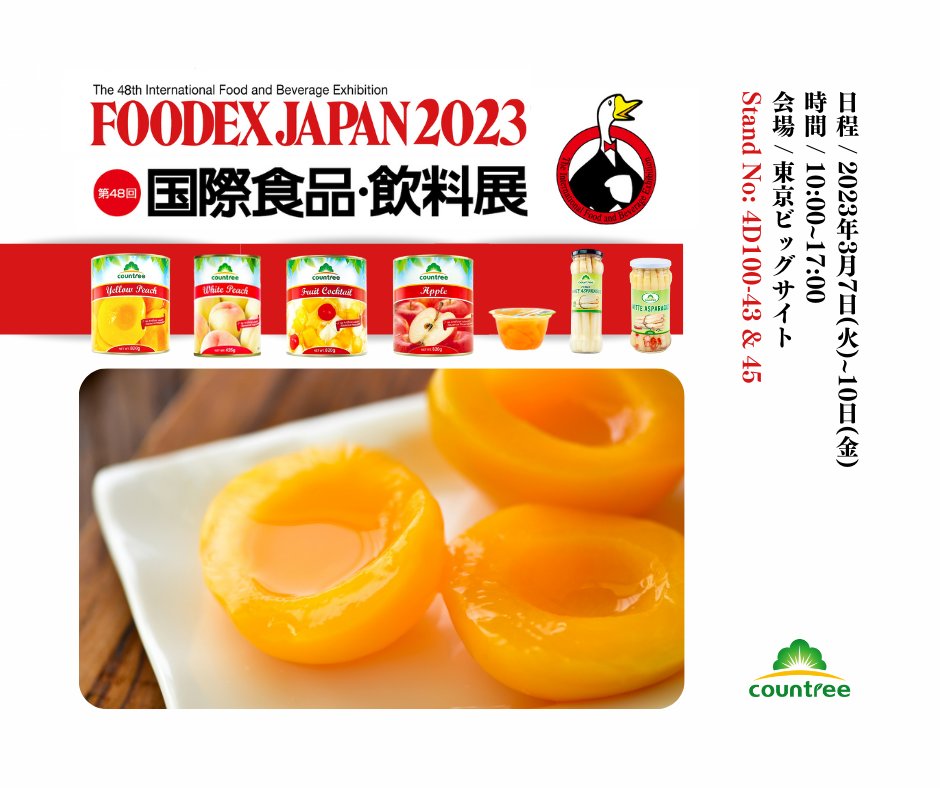 Countreefood, a leading canned food manufacturer, is participating in FOODEX JAPAN 2023 today, where it will be showcasing its range of high-quality products. The event is taking place in Tokyo, Japan from March 7th to March 10th, 2023, and Countreefood is excited to be a part of it.

STAND NO: 4D100-43 & 4D100-45
At the event, Countreefood is presenting its products, including canned yellow peaches, canned white peaches, canned mixed fruits, canned apples, canned asparagus, and mandarin cups. Visitors to the Countreefood booth will have the opportunity to learn more about the company's commitment to using only the freshest and most delicious ingredients in its products.
The Chairman of Countreefood, Chris San, and the Account Manager, Olicia, are attending the exhibition, where they will be engaging in productive discussions with potential customers and partners from around the world. They are looking forward to showcasing the company's products and building strong relationships with new contacts.
"FOODEX JAPAN 2023 provides an excellent platform for us to showcase our products to a global audience," said the Chairman of The Board. "We are thrilled to be a part of this event and to connect with potential customers and partners from around the world. Our commitment to excellence and our focus on quality, innovation, and customer service will be on full display at the exhibition."
Countreefood is dedicated to providing its customers with the highest quality canned food products, and its participation in FOODEX JAPAN 2023 is a testament to this commitment. With its focus on quality and innovation, Countreefood is well positioned to continue its growth and success in the years to come.
2023-03-07 15:32:25